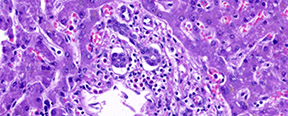 Acute Antibody Mediated Rejection of Allograft Liver.

This patient received a living related liver transplant for relief of NASH cirrhosis. Postoperative course was notable for declining mental status which was complicated by cardiac arrest during a diagnostic procedure. The specimen is from the allograft hepatectomy. The H&E stain shows evidence of acute antibody-mediated rejection. C4d Immunostain shows uptake in the portal microvasculature and CD3 stain highlights T lymphocytes that generally spare bile ducts. Features of acute AMR and the current grading system are available here.

You may click on any of the thumbnails above for an expanded view or go to whole slide digital imaging of this case

Additional Resource:

Antibody Mediated Rejection Literature Search


Enter the organ of interest into the textbox and press the button or hit "return" to perform a PubMed search for antibody-mediated rejection related to that organ. Relevant articles will appear in a new window. (We cannot guarantee that the search will be exhaustive or that every retrieved article will be directly relevant) .
---
Please mail comments, corrections or suggestions to the
TPIS administration
at the UPMC.
Last Modified:Thu Jul 19 2018
If you have more questions, you can always email TPIS Administration.