---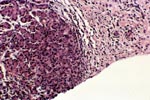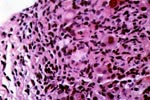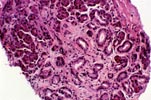 Cytomegalovirus Pancreatitis
The use of newer more potent immunosuppressive drugs such as tacrolimus and mycophenolate mofetil are potentially associated with an increase in all types of infections (bacterial, fungal and viral). Ganciclovir is used prophylactically in many transplant centers to prevent CMV infection. There is evidence that CMV infection is delayed and its severity reduced with ganciclovir prophylaxis. Although the incidence of CMV disease in kidney-pancreas transplants may be up to 22% in donor positive-recipient negative cases, the actual diagnosis of CMV graft pancreatitis is rare. In the report of Klassen et al., four patients with CMV pancreatitis diagnosed on percutaneous needle biopsies the process 18 weeks to 44 months after transplantation. In all 4 patients prolonged treatment with ganciclovir achieved clinical and histological resolution of the infection. The clinical presentation of CMV graft pancreatitis is indistinguishable from acute rejection, e.g. increase in serum amylase and lipase. Similarly, on percutaneous needle biopsies, acute allograft rejection and mild CMV pancreatitis with scanty viral cytopathic changes show overlapping morphological features. In all cases evidence of viral inclusions should be sought systematically in multiple tissue sections (we routinely evaluate 3 H&E slides and one trichrome stained slide with multiple sections each, immunoperoxidase stains for CMV are performed if deemed necessary). The inflammatory infiltrates in CMV infection are predominantly lymphocytic and like rejection tend to associate tightly to the acinar parenchyma if this is involved. Some cases show only isolated inclusions in endothelial cells or stromal cells and minimal inflammatory response. Venous endotheliitis is rarely associated with CMV infections. Eosinophils may be rarely seen in CMV pancreatitis as well. Neutrophils are present in association with areas of necrosis or acinar cell damage. Severe cases of CMV infection may present with intractable gastrointestinal hemorrhage and/or duodenal-cuff perforation. In summary: Since many features of cellular rejection overlap with CMV graft pancreatitis, the latter infection should always be ruled out with thorough examination of the tissue available, and special stains if necessary, before the diagnosis of rejection is rendered.

Relevant References
Klassen DK, Drachenberg CB, Papadimitriou JC, Cangro CB, Fink JC, Bartlett ST, Weir MR: CMV allograft pancreatitis: diagnosis, treatment, and histological features. Transplantation 2000;69:1968-71.


Lo A, Stratta RJ, Egidi MF, Shokouh-Amiri MH, Grewal HP, Kisilisik AT, Trofe J, Alloway RR, Gaber LW, Gaber AO: Patterns of cytomegalovirus infection in simultaneous kidney-pancreas transplant recipients receiving tacrolimus, mycophenolate mofetil, and prednisone with ganciclovir prophylaxis. Transpl Infect Dis 2001;3:8-15.


Keay S: CMV infection and disease in kidney and pancreas transplant recipients: Transpl Infect Dis 1999;1Suppl1:19-24.


Fernandez JA, Robles R, Ramirez P, Bueno FS, Rodriguez JM, Lujan J, Munitiz V, Martinez E, Llorente S, Gimeno L, Parrilla P: Arterioenteric fistula due to cytomegalovirus infection after pancreas transplantation. Transplantation 2001;72:966-8.


Ishibashi M, Bosshard S, Fukuuchi F, Lefrancois N, Martin X, Touraine L, Dubernard JM: Incidence of CMV infection in simultaneous pancreas and kidney transplantation: comparative study of two surgical procedures segmental pancreas versus whole bladder-drained pancreas. Tranplant Proc 1996;28:2859-60.


Humar A, Uknis M, Carlone-Jambor C, Gruessner RW, Dunn DL, Matas A: Cytomegalovirus disease recurrence after ganciglovir treatment in kidney and kidney-pancreas transplant recipients. Transplantation 1999;67:94-7.


Smets YF, van der Pijl JW, van Dissel JT et al.: Infectious disease complications of simultaneous pancreas kidney transplantation. Nephrol Dial Transplant 1997;12(4):764-771.

Sibley RK: Pancreas transplantation In: The pathology of organ transplantation. Sale GE ed., 1990, Butterworth Publishers, Stoneham, MA.


Fernandez-Cruz L, Sabater L, Gilabert R, et al.: Native and graft pancreatitis following combined pancreas-renal transplantation. Br J Surg 1993;80(11):1429-1432.
Sawyer MD, Mayoral JL, Gillingham KJ et al.: Treatment of recurrent CMV disease in patients receiving solid organ transplants. Arch Surg 1993;128(2):165-169.
Hibberd PL and Rubin RH: Prevention of CMV infection in the pediatric renal transplant recipient. Pediatr Nephrol 1991;5(1):112-117.
Papadimitriou JC, Drachenberg CB, Klassen DK, et al.: Histological grading scheme for pancreas allograft rejection: Application in the differential diagnosis from other pathological entities. Transplant Proc (In press).
---
Underwritten By

---
Please mail comments, corrections or suggestions to the TPIS administration at the UPMC.

Last Modified: Thu Jun 18 10:14:08 EDT 2009

If you have more questions, you can always email TPIS Administration.