Contributed by Anthony Demetris, M.D.
---
PATIENT HISTORY: Per referral letter, the patient is a middle aged male who was originally transplanted for Hepatitis C. Current liver is his third allograft. The most recent transplant was the result of hepatic artery thrombosis with ensuing hepatic necrosis and bacterial colonization. Post-op course complicated by infection of the new allograft with identical bacteria cultured from failed liver and septicemia. Present labs: Bili 48 (elevated); AST 56, ALT 52, Alk. Phos 181 (decreased), GGT 148 (decreased). Review of outside material.
---
Final Diagnosis (Case 34)
LIVER ALLOGRAFT, NEEDLE BIOPSY -

NO EVIDENCE OF ACUTE REJECTION (RAI 0/9).
CHANGES CONSISTENT WITH SEVERE PRESERVATION INJURY AND/OR SEPSIS.

MARKED PORTAL EXPANSION WITH PORTAL TO PORTAL BRIDGING FIBROSIS.

FOCAL INTRAHEPATIC PORTAL VEIN THROMBOSIS.
Previous Biopsies on this Patient:
None
TPIS Related Resources:
Liver Allograft Rejection Grading
Liver Transplant Topics
---
Gross Description - Case 34
The specimen consists of three (3) consult slides. No surgical pathology report is received with the specimen.
---
Microscopic Description - Case 34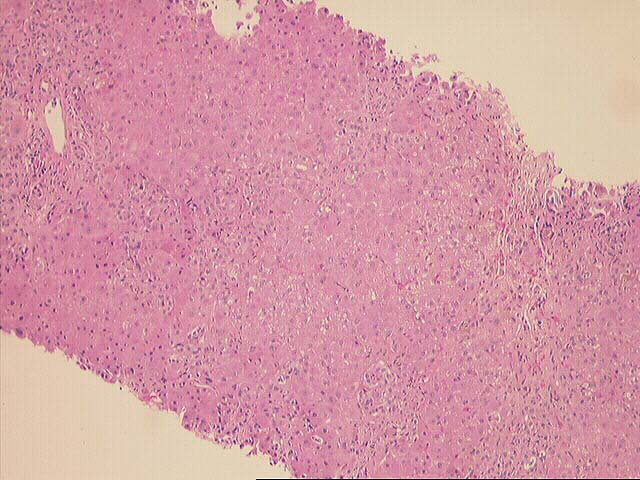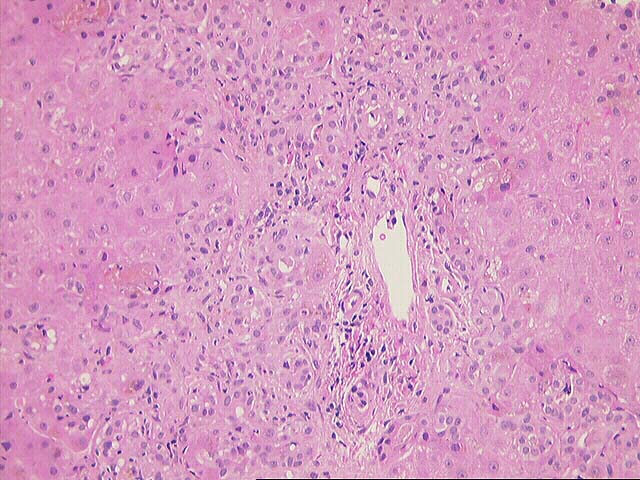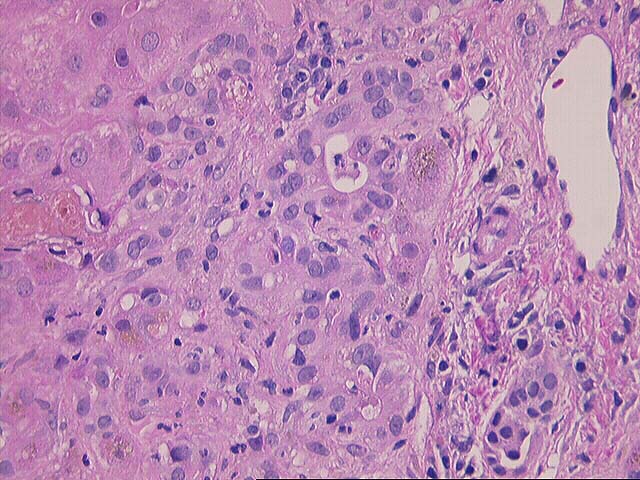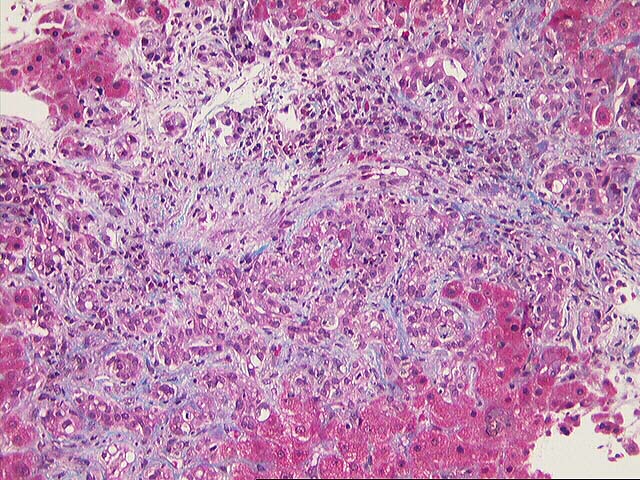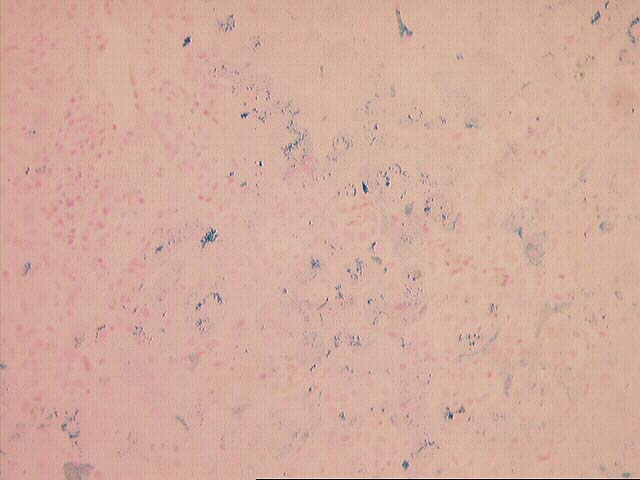 The normal lobular architecture is distorted by marked portal expansion with focal portal-to-portal bridging. The triads are expanded because of duct and cholangiolar proliferation along with fibrosis. There is no significant portal inflammatory cell infiltrate, and no duct damage or venulitis are seen. One small portal vein shows an organizing thrombus.
There is marked cholangiolar proliferation in the interface zone and cholangiolar bile plugs are seen.
Throughout the lobule, there is marked Kupffer cell hypertrophy, enlarged hepatocytes with large eosinophilic nucleoli and panlobular hepatocanalicular cholestasis. Pseudorosetting of hepatocytes is also seen. One cell is suspicious for ground glass change which should be investigated with the use of immunohistochemical studies for Hepatitis B core and surface antigens.
Overall, the histopathological changes are most consistent with a severe preservation injury and/or sepsis, which is consistent with the clinical history. No evidence of acute or chronic rejection is seen.
---
Please mail comments, corrections or suggestions to the TPIS administration at the UPMC.