Contributed by Anthony Demetris, M.D.
---
PATIENT HISTORY: Per referral letter, the patient is a middle aged Saudi male with end stage liver disease due to Hepatitis B who was transplanted. He has had good liver functions until quite recently. He developed a persistent fever which has defied every work up. He has been cultured from every site, scanned from head to toe, surgically explored, and biopsied in multiple locations. An excisional biopsy of a supraclavicular lymph node turned out to be a localized area of necrosis within the subcutaneous tissue. There is no real granuloma formation or evidence of a pre-existing lymph node. All cultures have been negative. No evidence of PTLD. He has been imperically treated with numerous antibiotics, anti-fungal agents, and anti-tuberculous agents--all without result. Currently, his serum chemistries are TB 15.9; AP 255; GGT 345; AST 340; ALT 276, ALB 2.9; PT 13.8. His immunosuppression has been discontinued. Review of outside material for followup.
---
Final Diagnosis (Case 23)
ALLOGRAFT LIVER, NEEDLE BIOPSY -

TREATED ACUTE (CELLULAR) REJECTION, CURRENTLY, NO SIGNIFICANT ACTIVITY.
LESS INFLAMMATION AND NECROSIS IN COMPARISON TO MOST RECENT PREVIOUS BIOPSY (Case 22).
BILE DUCT LOSS IN TWO OF FOUR (2/4) SMALL PORTAL TRIADS AND BILIARY EPITHELIAL ATROPHY, SUGGESTIVE, BUT NOT DIAGNOSTIC OF THE EARLIEST PHASES OF CHRONIC REJECTION (see microscopic description).
Previous Biopsies on this Patient:
Case 22
TPIS Related Resources:
Liver Allograft Rejection Grading
Liver Transplant Topics
---
Gross Description - Case 23
The specimen consists of two (2) consult slides. No surgical pathology report is received with the specimen.
---
Microscopic Description - Case 23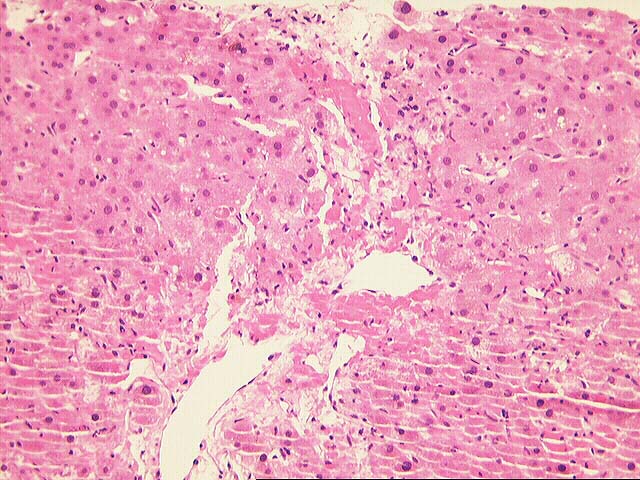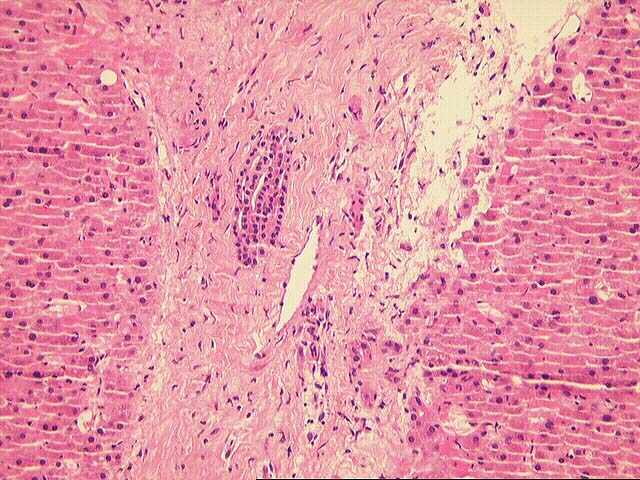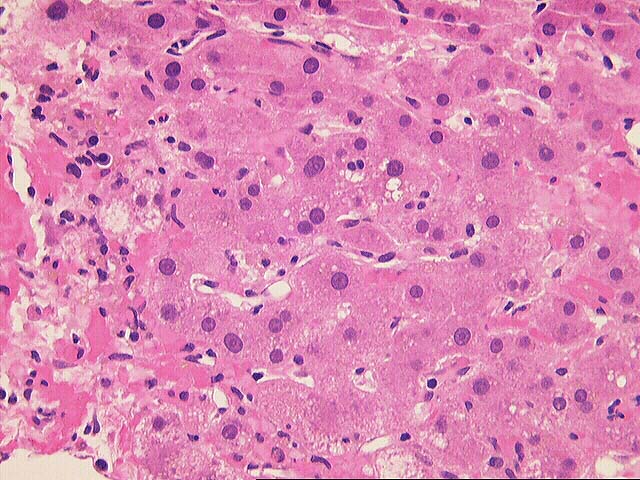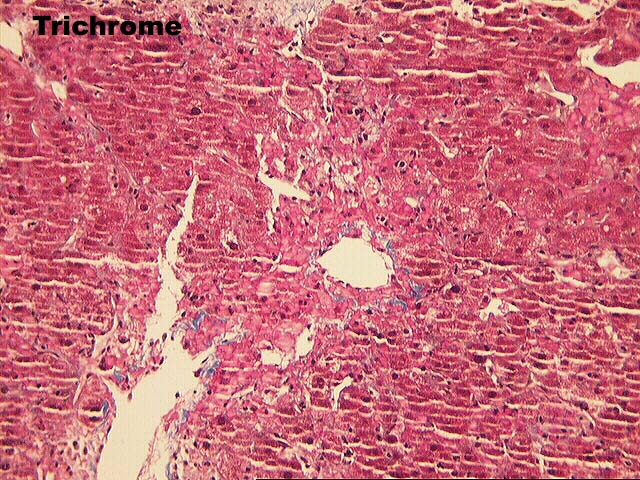 The normal lobular architecture is intact, but the biopsy is small and fragmented. Four small and one large portal tract are identified. Approximately three of the portal triads are either devoid of bile ducts or contain very small atrophic biliary epithelial cells. There is no significant portal inflammatory cell infiltrate, but the portal tract connective tissue appears slightly collagenized.
Throughout the lobules, there is Kupffer cell hypertrophy, thickening of the plates, regenerative change, mild perivenular sclerosis and perivenular hepatocellular swelling. No definite viral inclusions or ground glass cells are seen.
Compared to the most recent previous biopsy (OSSL# D808-97), there has been a decrease in the portal and perivenular inflammation and there is less hepatocellular necrosis and dropout.
Overall, the histopathological changes are most consistent with a treated acute rejection, which has improved since the previous sampling. Even though the number of portal triads sampled is small, the loss of bile ducts in two and atrophic changes into others are suggestive, but not diagnostic of the earliest features of chronic rejection. If duct damage and loss is a widespread process it should be clinically manifest by disproportionate elevations of the gamma glutamyltranspeptidase and alkaline phosphatase. Rebiopsy to examine more portal triads would help to substantiate the presence of ductopenia.
---
Please mail comments, corrections or suggestions to the TPIS administration at the UPMC.