Contributed by Anthony J. Demetris, M.D.
---
PATIENT HISTORY:
Per referral letter, the patient is a middle aged male who underwent orthotopic liver transplant for chronic active hepatitis C. Following recent biopsy, the patient was given a dose of steroids and his immunosuppression regimen was switched to FK506. A follow-up biopsy showed changes of recurrent hepatitis C with focal bridging fibrosis and apparent decrease in hepatocellular dropout as well as the degree of portal inflammation. Review of outside material.
---
Final Diagnosis (Case 70)

ALLOGRAFT LIVER, NEEDLE BIOPSY -

TREATED ACUTE CELLULAR REJECTION, MARKEDLY IMPROVED IN COMPARISON TO PREVIOUS BIOPSY (RAI 3/9).
RESIDUAL BILE DUCT DAMAGE AND ATROPHY/PYKNOSIS WITH BILE DUCT LOSS INVOLVING THREE OF EIGHT (3/8) PORTAL TRIADS, CONSISTENT WITH THE EARLIEST PHASES OF CHRONIC REJECTION(see microscopic description).
MODERATE PORTAL FIBROSIS WITH FOCAL PORTAL-TO-CENTRAL BRIDGING AND EARLY REGENERATIVE NODULARITY, CONSISTENT WITH A BACKGROUND OF CHRONIC HEPATITIS C VIRUS INFECTION (see microscopic description).
Previous Biopsies on this Patient:
None
TPIS Related Resources:
Liver Transplant Topics
---
Gross Description (Case 70)

The specimen consists of ten (10) consult slides,Part 1 (2), Part 2 (2), Part 3 (4) and Part 4 (2) with accompanying surgical pathology reports.
---
Microscopic Description (Case 70)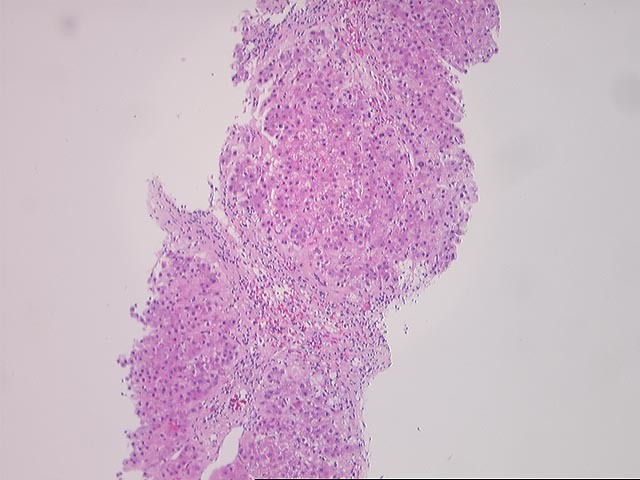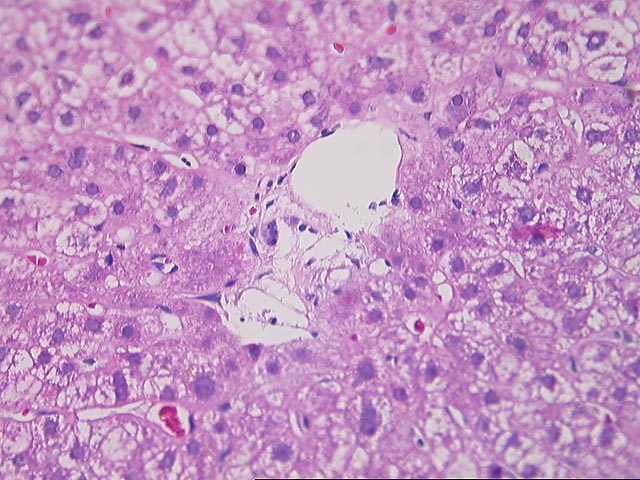 Part 1 (2 HE)
The normal lobular architecture is intact and greater than eight to ten small portal tracts are identified, a few of which contain a mild sprinkling of mononuclear cells. However, there is no significant duct damage or duct loss. Mild cholangiolar reactivity is seen in some regions and mild mixed steatosis is also present.
Overall, the changes in this biopsy are relatively mild and non specific.
Part 2 (2 HE)
The normal lobular architecture is basically intact, but slightly distorted because of a vague nodularity, likely related to mild intra-lobular regeneration. In addition, a few of the portal tracts contain a mild mononuclear inflammatory cell infiltrate with very minimal focal duct damage. No duct loss is appreciated. Within the lobule, there is thickening of the plates and an increased number of mitotic figures, suggestive of low-grade intralobular reactivity. Mild mixed steatosis is also present.
Overall, the changes in this biopsy are still relatively mild, but are suggestive of low-grade recurrent HCV.
Part 3 (3 HE, 1 Trichrome)
There has been a dramatic change since the previous biopsy. The normal lobular architecture is distorted by portal-to-central, central-to-central and focal portal-to-portal bridging necrosis/fibrosis. The remnant portal triads contain a mild to focally moderate mononuclear inflammatory cell infiltrate. Although no portal venulitis is appreciated, several ducts identified are distinctly atrophic or "dysplastic" appearing, with eosinophilic transformation of the cytoplasm, uneven nuclear spacing and ducts only partially lined by epithelial cells. In addition, a minority of the portal tracts appear to be devoid of ducts.
Throughout the lobules, there is perivenular fibrosis and mild to moderate perivenular lymphoplasmacytic inflammation. There is also mild lobular disarray and occasional acidophilic bodies.
Overall, the changes present in this biopsy are indicative of an active rejection(acute and chronic) superimposed on a background of chronic hepatitis, viral type C by history, with the rejection being the more significant of the two processes. This contention is based on the perivenular distribution of the lobular inflammation; the ductulocentric portal inflammation and the marked bile duct damage and atrophy.
Part 4 (2 HE)
Compared to the previous biopsy, there is a marked decrease in the perivenular and portal inflammation, but the architectural alterations remain and there is still residual bile duct damage and atrophy/pyknosis with three of eight (3/8) portal tracts devoid of ducts.
Overall, I would reconstruct this case as follows: The one-year follow-up biopsy was relatively unremarkable(Part 1) and the second biopsy(BS95-02406) shows low-grade changes indicative of recurrent Hepatitis C. The third biopsy(Part 2) shows marked deterioration because of an active (acute and early chronic) rejection superimposed on the background of chronic hepatitis, with rejection being responsible for most of the perivenular inflammation, duct damage and loss. It would be interesting to determine whether this patient was treated with interferon for the recurrent hepatitis. The relative contribution of hepatitis C and rejection to the architectural changes(bridging fibrosis) is difficult to determine with certainty, but in my opinion, both significantly contributed.
As might be expected, the fourth biopsy(Part 4) obtained after the switch to FK506 resulted in a significant decrease of the perivenular and portal mononuclear inflammatory cell infiltrate. Unfortunately, the architectural and ductal abnormalities persisted. Thus, at this point, the allograft is suffering from two serious insults: 1) duct damage and loss from rejection that is best classified as "early chronic rejection"; and 2) architectural alterations likely related to a combination of rejection and hepatitis. Although the rejection changes are still likely to be the most significant contributor to liver dysfunction(elevated gamma glutamyl transpeptidase, alkaline phosphatase and total bilirubin), there is potential for recovery since most of the active damage has subsided. Clinical correlation is required to determine if the architectural alterations have any affected portal pressures.
---
Please mail comments, corrections or suggestions to the TPIS administration at the UPMC.