Contributed by Anthony J. Demetris, M.D.
---
PATIENT HISTORY:
Per referral letter, the patient is a middle aged male who is HCV positive. S/P orthotopic liver transplant in Brussels. Review of outside material.
---
Final Diagnosis (Case 54)
ALLOGRAFT LIVER, NEEDLE BIOPSY -

NO EVIDENCE OF ACUTE REJECTION (RAI 0/9).
CHRONIC HEPATITIS, VIRAL TYPE C BY HISTORY, MILDLY ACTIVE (MODIFIED HAI SCORE = 1+0+1+1=3/18).
FOCAL MILD PORTAL FIBROSIS.
SIMILAR IN APPEARANCE (BY DESCRIPTION) TO PREVIOUS BIOPSY (S97-1434 OF 1/21/97).
MILD NODULAR REGENERATIVE HYPERPLASIA-TYPE CHANGES (see microscopic description).
Previous Biopsies on this Patient:
None
TPIS Related Resources:
Modified Knodell Scoring
Liver Transplant Topics
---
Gross Description - Case 54

The specimen consists of three (3) consult slides (number on slide is illegible). No surgical pathology report is received with the specimen.
---
Microscopic Description - Case 54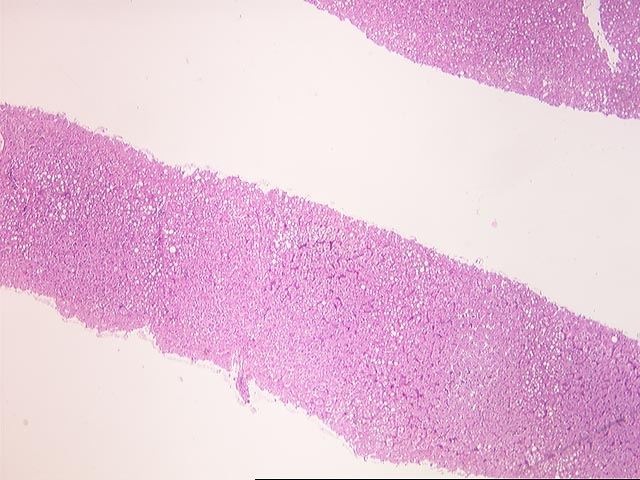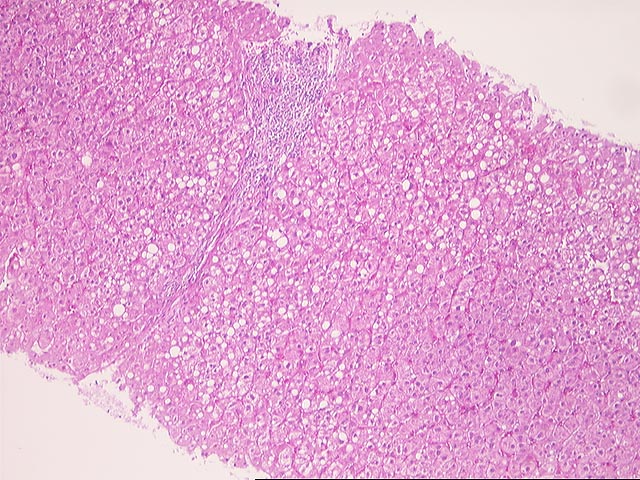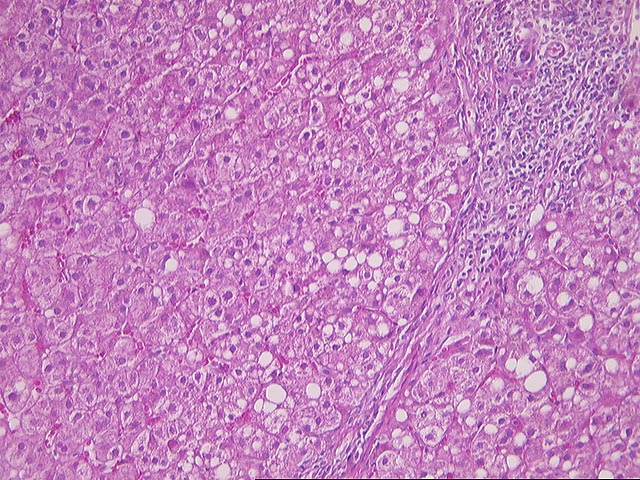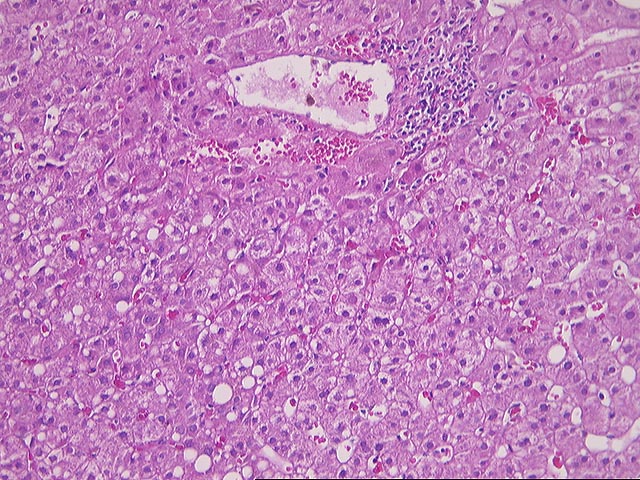 (1 HE, 1 Trichrome, 1 Reticulin) The specimen consists of a fragmented needle core biopsy of liver. The normal lobular architecture appears intact and that the normal spacing between portal tracts and central veins is maintained in most areas. However, in some regions, there is a vague intralobular nodularity and thickening of the plates, suggestive of mild focal nodular regenerative hyperplasia-type changes. This impression is confirmed on the reticulin stain. Trichrome stain shows minimal focal portal fibrosis.
The portal tracts show mild mononuclear inflammatory cell infiltrate with minimal evidence of duct damage and only focal mild interface activity. Throughout the lobules, there is mild mixed micro- and macrovesicular steatosis, but no Mallory's-like hyaline can be appreciated. The Kupffer cells appear to contain a slight increase in iron pigment. No definite viral inclusions or ground glass cells are seen.
Overall, the changes are most consistent with a low-grade chronic hepatitis, consistent with the clinical history of Type C. In addition, there are mild focal nodular regenerative hyperplasia- type changes. This can be related to the viral disease, or has been described in association with azathioprine therapy in liver allograft recipients. Clinical correlation is suggested. The previous biopsy was not available for review at the time of signout. It was an outside slide and returned to the original institution.
Application of the modified hepatitis activity index is as follows:
MODIFIED HEPATITIS ACTIVITY INDEX
GRADING
RANGE
SCORE
Periportal or periseptal interface hepatitis (piecemeal necrosis)
(0-4)
1
Confluent necrosis
(0-6)
0
Focal (spotty) lytic necrosis, apoptosis and focal inflammation
(0-4)
1
Portal inflammation
(0-4)
1
TOTAL
(0-18)
3
STAGING
RANGE
SCORE
Fibrosis
(0-6)
1
The numerical scoring system of the modified histologic activity index (Modified HAI) has been developed to grade the liver biopsies of chronic active hepatitis. This is based on four categories of periportal or periseptal interface hepatitis (piecemeal necrosis), confluent necrosis, focal (spotty) lytic necrosis, apoptosis and focal inflammation, with a total score of up to 18. A separate score for the staging is also reported. A copy of the original paper published by the Journal of Hepatology, 1995 [J Hepatology 1995; 22:696-699] is available in the Department of Pathology upon request.
---
Please mail comments, corrections or suggestions to the TPIS administration at the UPMC.