---
Kidney Acute Cellular Rejection: Banff Grade t2
Return to Banff Grading System
Each image is from a separate case representing the feature defined above.

Press the buttons below each thumbnail image to go to either a larger popup image or a whole slide digital image of the entire specimen.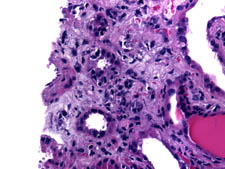 Case 1D
(i2 t2 v0 g0)
Copyright © 1996-2007 University of Pittsburgh, unless otherwise specified. All rights reserved. Unauthorized redistribution prohibited.
Last Modified: Thu Jun 18 10:14:08 EDT 2009